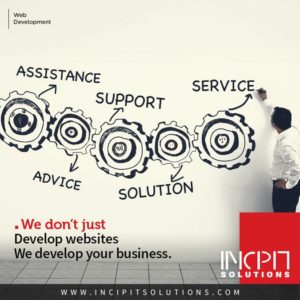 There are several factors and departments of a business that all work together to achieve one or more business goals. Each department has its own importance and therefore requires working efficiently to meet the given targets. The way businesses function and work has changed a lot over the period of time. Organizations are now huge entities with several departments within departments being managed at once. So often it becomes difficult to have a hold on all the happenings at once and keep things going in the right direction. For this purpose, they need excellent management and leadership that will push them forward towards meeting their goal.
Many companies today like to outsource one function or another. It on many occasions save organizations a lot of time as well as Human Resource. Another reason is that, with the advancement of technologies many organizations are not equipped with the right tools to make the most use of these technologies. So Business Solutions provider like Incipit Solutions helps them by offering several business related services. They offer exclusively tailored services to their clients to give them the best experience of outsourcing. They offer Inventory Management Solutions to several clients. Often these clients are manufacturing companies on the hunt for finding appropriate and user friendly Inventory Management Solutions. Typically an Inventory Management Solution pays off within a year at maximum. After that it helps in decreasing the loss of Inventory and helps in estimating the level of inventory needed in different ware houses. Marketing has become a phenomenon that has upgraded and updated itself in recent times. It has become one of the most powerful tools to get the attention of the consumer. Incipit Solutions also provide Search Engine Optimization Services to several of their clients. Many organizations now have websites which are being properly handled by experts. By offering SEO Services, Incipit Solutions helps them in making their website more user friendly, generate more web traffic and increase appearance in organic search done on various search engines like Google and Bing. They also offer several other business related services.
These services are graphic designing, communication services, digital marketing, internal auditing, virtual assistance, inventory management and much more. They provide tailored solutions as per the need of the clients.